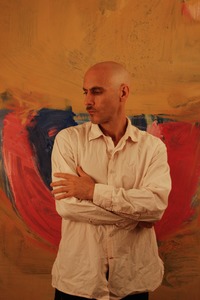 photo selfie' 2011
B. New Haven , CT 1957
I've been an artist since my earliest memory. I came to live in the city on my own when I was still 15 years old to study art. Aiming to live and work as a NYC artist I've been here ever since.

Picasso once said; "Artists lie to reveal a greater truth." In that exact sense the art I present, whether abstract or objective, is a manifestation of imagination and not reality -- or at least not reality yet. My paintings remain hopeful and romantic but are not strictly optimistic.
Imagination is one of my favorite things - Yet in my encounters with others and in my life, aside from my graphic or performing art, I don't lie, twist the truth or exaggerate. If anything I'm prefer humility. There's too much malignant narcissism in the world today; lying or bragging in the interest of self promotion or commercialism. I do still focus on surviving while building experience as a living painter ... original experience.
I find comfort thinking of the artist and poet William Blake, whose contemporary peers, other artists, were known to have said of him; "He's good to steal from."
I jest, shock or invoke the mysterious and at times I might be controversial or ironic but hope and grace are reserved. I love the world but am not only full of praise for it. I'm not so arrogant to think I can save, heal or fix the world, or attempt to "do something for a cause". Yet the fact that 60% of our beautiful, blue planet Earth's wildlife is gone or completely extinct since 1970 gives me cause for concern about the way human's are so disrespectful and destructive to other life forms and the environment in which we, the human animal, should only inhabit a small space within. Recent events highlight this Environmental-Holocaust and the many footprints we leave in our short lives. The air and oceans are one.
I eschew cultism in favor of culture. I have no goal to be famous or have a "cult following" which in my experience is destructive, though I love connecting with people through my arts -- and feeling less alone.
My artistic techniques are drawn from my experiences, experimentation, invention and a life spent immersed in the arts; visual, performing and literary. Though other art informs my work I tend to work in isolation, separated from the crowd.
In 2013, I was awarded a
Pollock~Krasner Foundation
grant for painting. I'm honored and grateful to the foundation for their great work. I'm appreciative when my hard work and self discipline resonates with viewers, spectators and the wonderful collectors who enjoy my paintings and drawings. I'm glad to inspire fellow artists. I'm inspired most by the world, truth, beauty and the world of natural phenomenon. I try to see the phenomenal universe through a scientific observational, objective "mind's eye" which requires self knowledge of course as a point of reference. Solipsism and karma rule us all. We all, each can only know our own existence. Yet art can be a bridge. Painting being a very subtle bridge.
I've been awarded several grants in the arts over the course of my life
and am grateful for that support which has enabled me to be a leader.
What compels my work isn't just a motivation to please; Yet my colorist work is pleasing to the eye. A retinal experience much like sculpture that is unique in person although it also appears somewhat effectively on the "internet". Conventional beauty is not my aim.
My art work is now in the diverse private collections of luminaries, celestial beings and vagabonds alike. I welcome gallery and alternative space exhibitions when possible. That's always exciting and I enjoy being a showman throwing a grand bash at openings!

Thank you for your time and interest. A bio-CV is available upon request.
The "Exhibitions" page on this website also has more information.
Make appointments for studio visits or inquiries about a specific
If you're a curator for a gallery, museum or other arts organization, I welcome correspondence/inquiries and am open to solo shows or appropriate group shows. Collectors also, please make any inquiries, you don't have to commit to anything to start a conversation! I don't bite..often. ;)
EDUCATION:
Bard College at Simon's Rock
New York University
Lincoln Center, NYC
Fashion Institute of Technology
School of Visual Arts
The Art Students Leaque of New York