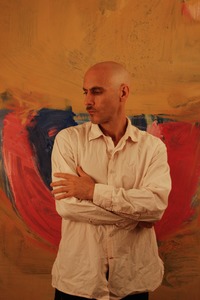 photo selfie' 2011
B. New Haven , CT 1957
I've been an artist since my earliest memory. I came to live in the city on my own when I was 17 years old to study art. Aiming to live and work as a NYC artist I've been here ever since.
Using my imagination is one of my favorite things whether I'm making art from observation, from my inner vision, working abstractly or some hybrid combination of those ways of approaching painting. At times I jest, shock or invoke the mysterious. Generally I create a series of paintings pursuing a visual idea or concept, a way of using the paint or a content driven idea. I sometimes make as many as 25 or as few as several paintings within a series. I might abandon an idea and come back to it some time later. I follow my obsessions.
My artistic techniques are drawn from my experiences, experimentation, invention and a life spent immersed in the arts; visual, performing and literary. Though other art informs my work being a studio artist is a solo act and time spent alone in contemplation is something I enjoy. My work also has a social side and I I love connecting with people through my art.
In 2013, I was awarded a
Pollock~Krasner Foundation
grant for painting. I'm honored and grateful to the foundation for their great work. I'm appreciative when my hard work and self discipline resonates with viewers, spectators and the wonderful collectors who enjoy my paintings and drawings. I'm glad to inspire fellow artists. I'm also inspired by other artists, the world, truth, beauty and the world of natural phenomenon. I try to see the phenomenal universe through a scientific observational, objective "mind's eye" which requires self knowledge of course as a point of reference. Solipsism and karma rule us all. We all, each can only know our own existence. Yet art can be a bridge. Painting being a very subtle bridge.
I've been awarded several grants in the arts over the course of my life
and am grateful for that support which has enabled me to see a future for my work and continue to look forward.
What compels my work isn't just a motivation to please; Yet my art is often an exciting retinal experience and employs color or an interesting pallet ultimately pleasing to the eye. Much like sculpture my paintings are unique in person although the colors also appear somewhat effectively on the "internet". I like to explore the possibilities of what can be beautiful or strong or touch some part of the spectrum of human emotion and intellect.
Though my motivations for painting aren't always commerce driven, I absolutely welcome exhibition opportunities and any collector inquiries. My art work is now in the diverse private collections of luminaries, celestial beings and vagabonds alike! Basically, everyday people like myself (and you!) I welcome gallery and alternative space exhibitions when possible. That's always exciting and I enjoy being a showman throwing a grand bash at openings!

Thank you for your time and interest. A full bio-CV is available upon request.
The "Exhibitions" page on this website also has more information.
Make appointments for studio visits or inquiries about a specific
If you're a curator for a gallery, museum or other arts organization, I welcome correspondence/inquiries and am open to solo shows or appropriate group shows. Collectors also, please make any inquiries, you don't have to commit to anything to start a conversation! I don't bite..often. ;)
EDUCATION:
Bard College at Simon's Rock
New York University
Lincoln Center, NYC
Fashion Institute of Technology
School of Visual Arts
The Art Students Leaque of New York